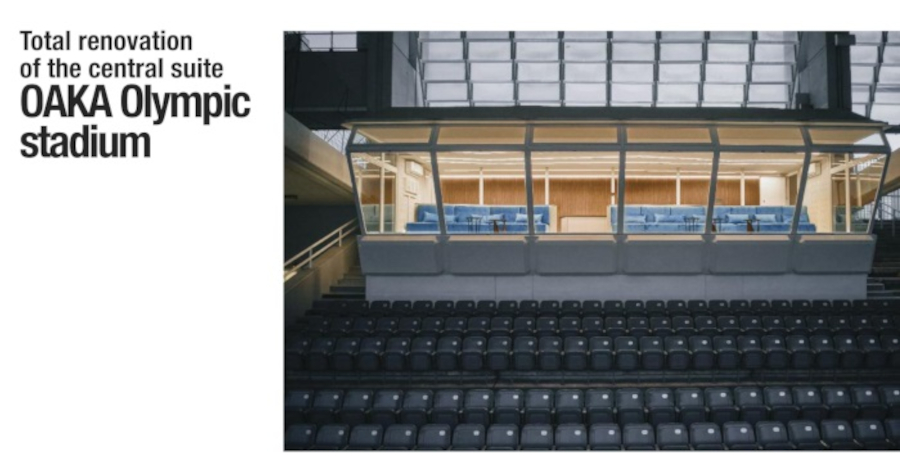 Total renovation of the central suite of the OAKA Olympic stadium
Architectural design: a+ architects - Ioannis Zacharakis
It was a big challenge for our office a+ architects, when in our first meeting with the general director of OAKA, Konstantinos Halioris, we heard with great excitement that "OAKA is changing". In the context of this change, we were entrusted with the redesign and total renovation of the suite. Both the general manager of OAKA, as well as our office, believe in partnerships and this led us to a sponsorship framework for the implementation of the project. With the same enthusiasm, the sponsors accepted our proposal for collaboration.
The architectural concept was the creation of a modern space with selected materials and colors that remind the visitor of "Greece", while the simple lines and functionality distinguish the space. Particular emphasis was placed on the design and selection of lighting fixtures. In the already configured space on two levels, our office improved the access, creating a separating construction, for the correct flow in the space and not disturbing the spectators present on the two levels.
The materials chosen are, the wall paneling, with embossed walnut wood with stripes. The piece of furniture with the minibar, in "silk fabric texture" wood. The separating construction, in mosaic imitation. Special heavy-duty carpeting was used on the floor. The fabrics, in blue colors of the Greek sea on the sofas and skin color on the stools. The coffee tables are a combination of metal and wood. Clean forms and an atmosphere of luxury in the space.
Project details
Architectural design: a+ architects - Ioannis Zacharakis
Lighting design: LUUN
Text: a+ architects
Photos: Vice Versa
Sponsors
A+ ARCHITECTS
ALTA LINEA
EKA HELLAS
HYPHEN
KANELLI CLEAF
KOURTIS CONTRACT
LUUN
MAGNA FACILITY SERVICES