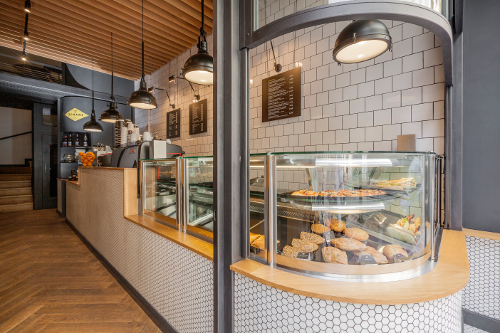 Zimari is located in one of the most central locations in Athens, at number 3 Stadiou Street.
It is a short stop shop, a new destination for coffee and snacks in the historic center.
The geometry of the space is typical of small shops in the center of Athens, with a narrow face, long depth and height.
The main spatial feature of the design is the curved structure of the facade which acts as an element of the brand identity of the chain "Zimari".
The metal, curved frame lifts upwards thus creating a large opening, framing the store towards the city. The earthy materials, natural textures and the basic design gesture to place the ovens prominently, create an intimate feel of unity, a redesign of the classic bakery in a modern urban environment.
Project details

Title: Zimari
Type: short stop shop for coffee and snacks
Location: 3 Stadiou Str. Athens
Architectural design: Urban Soul Project